Get Toned While Feeling You Can Walk On Water!

Highlights
✓ Promotes fitness: A fun, effective way to workout and relax this summer!
✓ Space saving: Our inflatable design makes it easy to bring with you on trips and store in your home without taking up space as with normal, clunky paddle boards
✓ Durable: Our unique, high quality, sturdy design is specifically built for long-lasting use. Our Inflatable structure doesn't compromise on quality unlike other paddle boards. Get all the benefits of a solid paddle board without the bulk!
✓ Accessible: Our innovative non-slip deck pad makes it easier to maintain your balance whilst standing, making it perfect for all levels of experience.
✓ Easy: Our Paddle Boards are made from a special lightweight material means you can effortlessly drag it in and out of the water, spending hours on end getting fit and having fun!
5 Reasons Why You Should Pick Up Paddle Boarding Today!
✓ Fantastic For Cardio!
Don't be fooled by how easy and relaxing it looks from the shore. It can be an intense workout if you want it to be.
Increasing your speed and effort, racing friends, or introducing 'HITT' style techniques as part of your session will get your heart rate going.
By ensuring that you are always moving, your circulation also speeds up making it a fantastic way to get in your cardio.
Making SUP a regular hobby and you will see your cardio fitness levels greatly improve.
This means lowering your chances of diseases like diabetes, joint problems, heart attacks and strokes. Who wouldn't want that? To make it more beneficial and fun, let your friends or family join you for a SUP race.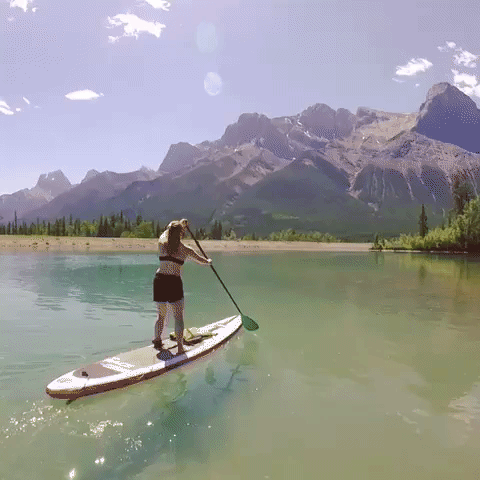 ✓ Relaxes And Decreases Stress And Anxiety!
Everyone has to deal with stress. If stress gets too much, it could become serious and lead to unhappiness, and even cause mental disorders.
It is important to keep your stress levels under control for your wellbeing and the wellbeing of your loved ones.
Water has been known to have a relaxing effect on the human body and mind. The sound and feel of water and the environment surrounding it are very soothing to humans.
When you start paddling and find a rhythm, when you inhale the crisp fresh air of the lake or sea, and you will feel your stress melt away!
The beautiful scenery will soothe you and stimulate your brain to produce serotonin and endorphins - which are responsible for making you happy.
The next time life overwhelms you, pick up your paddleboard and have a good time. You owe it to yourself.
✓ Burns A Lot Of Calories!
The more calories a sport burns, the more results you will see with your weight loss and fitness journey.
The number of calories that stand up paddling burns explains why it is the fastest growing sport since 2013.
Many exercises that appear intense have nothing on SUP boarding when it comes to burning calories.
For instance, walking is a common activity that is known to burn many calories. But guess what—recreational paddling burns double the number of calories burned during a leisure walk.
In a single hour of moving smoothly at a moderate pace, you are going to burn 304-430 calories.
SUP yoga is also not strenuous. In fact, it is a very relaxing variation of paddling. Nevertheless, it will see you burn 416-540 calories in one hour!
SUP racing is the most intense form of paddling. It is, therefore, no surprise that it helps you burn the most number of calories.
In a serious SUP race, you are likely to burn 713-1,125 calories in an hour! (Note that gender is a determinant of the number of calories you will burn; with men tending to burn more than women.)
✓ Low Risk Sport!
Sporting activities are beneficial to the mind and body. However, many sports and exercises strain and stiffen your muscles, often leading to injury.
How many times have you seen or heard people get injured while playing sports or training?
When people say that stand up paddling is the ultimate sport, they mean it.
It is gentle to your body.
SUPing involves standing, balancing and paddling.
The chance of muscular injury is low, as it does not subject your tendons and ligaments to excessive or unexpected impact.
Many injured athletes who are rehabilitating are advised to take up standup paddling.
It is effective in speeding up the healing process of the muscles without damaging them further.
✓ Works Out All Your Muscles!
SUP boarding is not selective when it comes to working your muscles. The forces are distributed throughout every muscle, from the neck to the toes.
With SUP boarding, you need to stand upright on an unstable surface throughout the session.
This means that your legs muscles have no time to be 'off-duty.'
They are needed to stabilize you, in order to keep your balance and maintain your center of gravity.
As you paddle, your back, arms and shoulder muscles are constantly engaged.
Maintaining balance, which is key in paddling, makes use of the core, back and abdominal muscles.
The core is the most engaged muscle in SUPing. People who desire to have abs of steel are often advised to try paddling.
The mix of ab stimulation along with cardio is an assured way to give you the flat stomach of your dreams!
Pick SUP Boarding up and feel the difference today!
Specifications:
Overall dimensions: 10.6" x 30" x 6.5" (L x W x H)
Adjustable length of paddle: 69" to 85"
Backpack size: 15.5" x 11.5" x 37" (L x W x H)
Net weight: 23 lbs
Weight capacity: 352 lbs
Package includes:
1 x Inflatable paddle board
1 x Adjustable paddle
1 x Carry bag
1 x Removable slide-in fin
1 x Safety leash
1 x Manual air pump
1 x Repair kit
1 x Instructions